Coastal Flooding
Rising sea level inundates low-lying areas, converts wetlands to open water, erodes beaches, exacerbates flooding, and increases the salinity of estuaries and aquifers. Here are some reports that examine increased flooding. as sea level rises.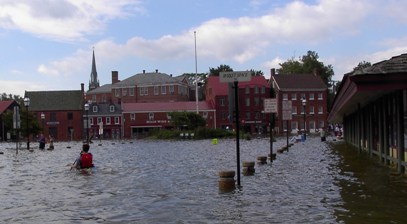 Annapolis the day after Hurricane Isabel
Sea level rise can excacerbate all of the causes of coastal flooding.
During hurricanes and severe northeasters, intense winds and low pressure cause water to pile up higher than normal, causing what is known as a storm surge. These surges are generally the source of the worst flooding. Rising sea level provides a higher base upon which storm surges build, and thereby increases the risk of severe flooding. Moreover, loss of wetlands from sea level rise can remove a storm surge buffer.
Along the ocean coast, storm waves can destroy homes even if they are elevated above the storm water level. Sea level rise increases the risk of damging storm waves for two reasons: the higher water level provides a higher base for the waves so they are able to strike structures that might otherwise be elevated above the waves; and shore erosion causes by sea level rise allows the waves to strike farther inland
Extreme high tides during new and full moons can flood areas that are above the normal high tide. Rising sea level elevates all of the tides, allowing spring tide flooding to reach farther inland.
Low-lying coastal areas often flood during severe thunderstorms because they drain very slowly. Rising sea level further slows the rate at which low-lying areas flood.
Basements flood in low-lying areas because of high water tables. Sea level rise increases the elevation of coastal water tables, and can make some basements unusable.
Finally, the most catastrophic flooding of all occurs when dikes and other flood control facilities fail or become overtopped during a severe storm. Dikes designed for a given sea level can fail if sea level rise allows higher water levels to overtop them. The flooding of New Orleans during Hurricane Katrina appears to have resulted because a key dike along the Industrial Canal was designed for the sea level of 1929, which was a few feet lower than sea level today in New Orleans.
Reports and other products