4.2.1 Constitutional Takings Question
One of the primary reasons for obtaining a recorded rolling easement is that the legal uncertainty surrounding a possible regulatory takings claim can be avoided. If the landowner sells or donates a rolling easement, then the takings question is entirely avoided. Sometimes localities obtain easements as a condition for a permit, a process known as an "exaction."Under existing holdings, an exaction of a rolling easement in return for a permit to develop vacant land is not a taking, provided that (a) the rolling easement mitigates a type of harm otherwise caused by the development,[376] and (b) this mitigation is roughly proportional to the harm expected from the development.[377] One paper has argued that exacting a rolling easement that prohibits shore protection meets this test because such a permit condition merely ensures a natural transformation that would occur if the development did not take place,[378] but an exaction of another type of rolling easement could be a taking under other circumstances.[379] Whatever the merits of a takings claim may be, they are litigated at the time of the exaction,[380] and hence provide more legal certainty than a regulation, which need not be litigated until the property is threatened decades later.
4.2.2 Does State Property Law Allow Creation of the Rolling Easement Needed?
Just as government agencies must have legislative authority for their regulations to have the force of law, a property interest much be legally recognized for a court to enforce it. In this section we focus on conservation easements, future interests in land, ambulatory (moveable) boundaries, and rolling affirmative easements.
4.2.2.1 Conservation Easements
Traditionally, the common law did not recognize conservation easements as property. But statutes enacted during the 20th century now authorize conservation easements;[381] and land trusts can readily design shoreline migration conservation easements to fulfill the requirements of those statutes. Some issues will arise, however, if a land trust and the landowner want to amend an existing conservation easement that does not roll so that it becomes a rolling conservation easement.
Land trusts have developed a comprehensive framework for evaluating possible amendments to conservation easements.[382] Often amendments occur because a landowner wants to do something that is prohibited by a conservation easement, but the proposed activity either has a negligible adverse impact on achieving the conservation purpose of the easement, or the owner is willing to amend the easement to prohibit an activity that would have a more severe impact on the conservation value. Land trusts are generally advised to ensure that amendments:
Comply with applicable law;
Serve the public interest consistent with the land trust's mission;
Do not undermine the conservation purpose;
Do not undermine the intent of the grantor, donor, or funding source;
Do not diminish the actual conservation values from the easement; and
Do not unreasonably enrich the landowner.

[383]
To ensure compliance with applicable law, The Nature Conservancy seeks approval from a state's Attorney General before amending an easement (which can delay the process considerably).[384]
Converting an existing conservation easement into a rolling conservation easement would generally satisfy all those criteria. Adding the restrictions associated with preventing shore protection would either increase the conservation values of the easement by (for example) ensuring that farmlands become wetland, or have no impact (if the landowner was not going to hold back the sea anyway). The public interest is clearly served, and no one is enriched. The Nature Conservancy does not seek approval of the Attorney General for amendments that merely add restrictions.[385]
If the sole purpose of a conservation easement was to maintain the area of farmland in a given region, however, prohibiting shore protection might tend to undermine the intent. The parcel may remain farmland longer without the restriction (though there is no guarantee that the farm would be protected from the rising sea even without the
rolling easement). Thus the amendment could be viewed as having positive and negative impacts on conservation. If the resulting moderate legal risk[386] was unacceptable, creating a new shoreline migration easement could accomplish the same result; but the holder of the conservation easement might be reluctant to accept the shoreline migration easement because of its duty to uphold existing easements. (Finding a second land trust to accept the new easement might be difficult). Nevertheless, in a state where the model easement discourages shore protection, the clear public policy in favor of allowing wetlands to migrate inland will make it difficult to challenge a rolling conservation easement created by amendment. One can reasonably assume that the original purpose of this conservation easement was to prevent development and thereby ensure that the land will be farmed for as long as the land exists, not to encourage the owner to eventually protect the land with a dike.
4.2.2.2 Defeasible Estates and Future Interests
Defeasible estates and future interests (e.g., property changing hands when sea level rises a given amount) have long been recognized by the common law of property. Nevertheless, how a court would treat a particular scheme depends on state property law. For example, the common law "Rule Against Perpetuities" would void TLC's interest in a deed that said "to buyer but if sea level rises one meter above the sea level of the 1980–2001 tidal epoch, then to TLC."[387] But the rule would not void the interest in a deed that said "to buyer for so long as sea level is less than one meter above the 1980–2001 tidal epoch and then the property reverts back to the grantor," [388] and the seller can donate or sell that possibility of reverter to TLC. Anyone considering a rolling easement set up as a future interest in land should evaluate whether it would be subject to the Rule Against Perpetuities.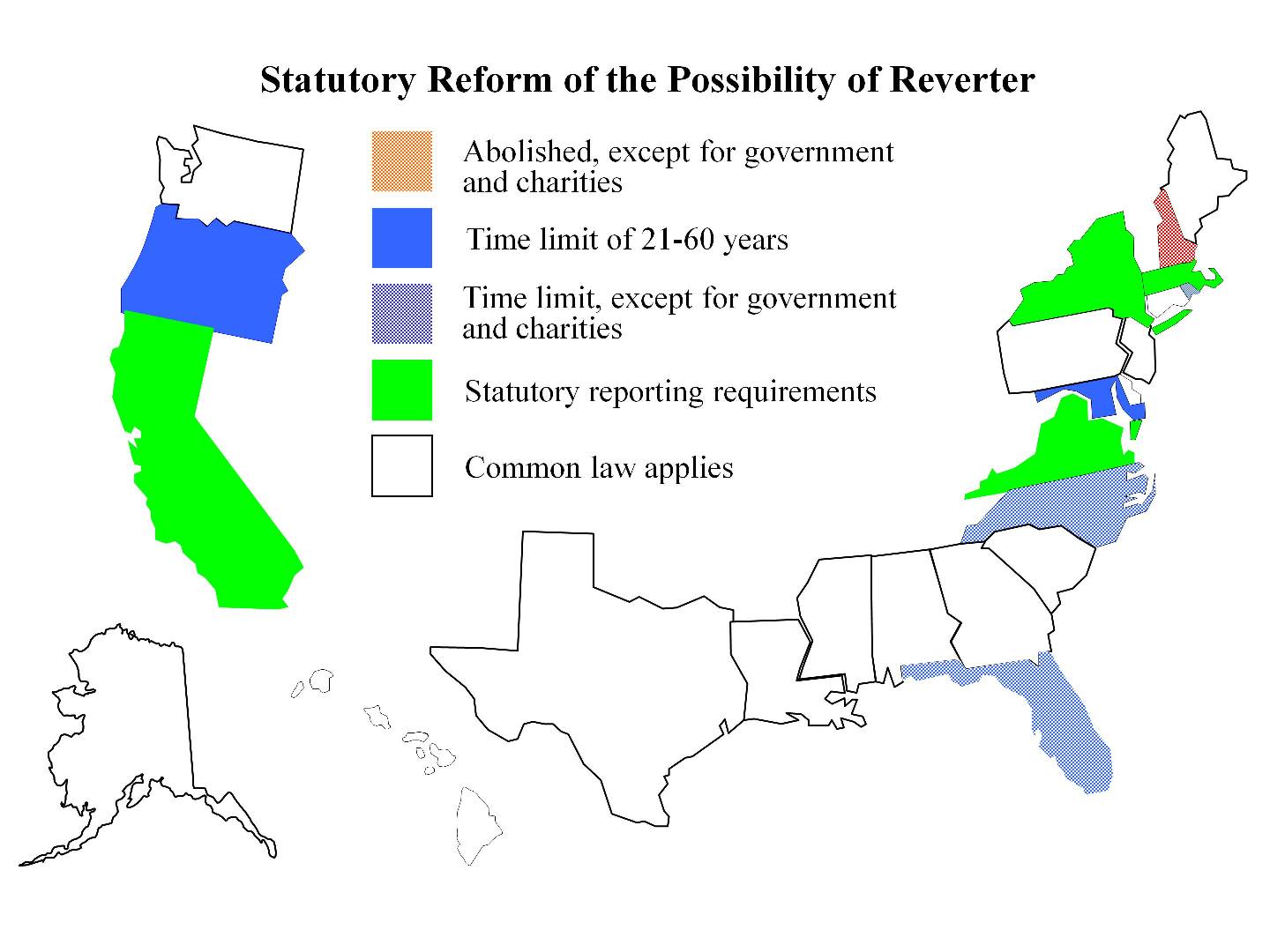 Figure 14. Statutory Reform of the Possibility of Reverter. Almost half of the coastal states have enacted statutes that limit the use of defeasible estates and future interests. Some states require the holder of a future interest to re-record her ownership or forfeit it. A few states limit the duration for some types of interest holders. In Maryland, a government agency can retain a possibility of reverter without a time limit.
During the 20th century, about one-third of the coastal states enacted statutes that limit the ability of property owners to create a possibility of reverter.[389] One state has abolished the general right to create a possibility of reverter.[390] The most common restrictions are requiring the interest holders to re-record their interests periodically,[391] limits on the duration of any newly created possibility of reverter,[392] and limits on the period of time for claiming the land after the event that triggers the reversion (see Figure 14).[393]
Many of these statutes, however, have exceptions if the possibility of reverter is held by the government or a charity.[394] Some statutes say that although the property will no longer revert when the owner breaches a condition, the court will enforce the restrictions.[395] New York also has an exception when the reversion is triggered by something other than how the land is used[396] (e.g., a rise in sea level), suggesting a desire to avoid forfeitures while respecting an owner's right to convey property for a natural duration.
Federal land agencies appear to have clearer legal authority to purchase and own rolling easements than other parties. Due to the Supremacy Clause of the U.S. Constitution, [397] federal agencies can buy particular interests in land as needed, whether or not they are recognized by state property law.[398]
4.2.2.3 Ambulatory (Movable) Boundaries
Property boundaries usually have fixed surveyed location, but not always. Land along the shore is the most common exception. Under the public trust doctrine, various states define the rolling boundary between private and public land as the dune vegetation line, the ordinary high water mark, the mean high tide line, or the mean low tide line.[399] If a private entity owns the tidelands, the high water mark can be the boundary between private parties. [400] And in at least one case, property lines have moved along with slow landslides.[401] Because judges (rather than people drafting land deeds) originally defined these boundaries as ambulatory,[402] the legal authority for these ambulatory boundaries has not been seriously in doubt.
Are landowners free to subdivide existing parcels (or convert existing fixed boundaries) using an ambulatory boundary? Because this has rarely been done, the answer is unclear, and what courts decide may vary from state to state (unless the legislature specifically authorizes an ambulatory boundary). Some issues to consider include:
Does the ambulatory boundary comply with local land use regulations? Subdivision regulations that govern the shapes and sizes of parcels generally do not prohibit setting boundaries based on shorelines.

[403]

But they often set a minimum width, and the migrating boundary would eventually leave the lot narrower than that minimum. Restrictions on the shape of parcels sometimes have exceptions for conservation purposes

[404]

or necessity due to topography.

[405]

Will the same reasoning apply to lots that become too narrow as the shore retreats?
If the ambulatory boundary might eventually leave a parcel out of compliance, is the arrangement prohibited? Does the mere possibility that a parcel might one day become too small invalidate the subdivision? Or does subdivision of land comply with the regulation if the landowner promises to either obtain a variance or transfer a parcel that becomes too small?
Would the boundary comply with the state law of property? Courts have sometimes been hostile to ambulatory boundaries, based on a long-standing maxim that the boundaries of land must be well-defined combined with the assumption that an ambulatory boundary is not as well defined as a fixed boundary.

[406]

Those cases, however, have generally presented a court with a question about whether a boundary automatically migrates based on the law of property, not whether landowners are free to voluntarily create an ambulatory boundary.

[407]

Some cases rejecting ambulatory boundaries have cited the fact that the land titles had not specifically stated that the boundary rolls,

[408]

or they had implied that the boundary does not roll.

[409]

Can the same result be achieved by creating an affirmative easement that rolls rather than an ambulatory property line? Some cases have suggested that a rolling affirmative easement has a stronger basis in property law than an ambulatory property line for a roadway.

[410]
4.2.2.4 Affirmative Easements that Roll.
It is likely that adjacent landowners are free to negotiate a rolling affirmative easement in at least some coastal states. After Severance v. Patterson, the Texas General Land Office announced that it had suspended a beach nourishment project along West Galveston Island until beachfront owners conveyed rolling easements for beach access,[411] and the court implicitly recognized that a rolling easement can be a property interest under Texas Law.[412] Other courts that declined to find that an easement rolls have indicated that if there were evidence of intent to roll, then the easements under consideration would roll. [413] The best possible evidence of intent would be specific language in a deed.
In states where the law has not squarely addressed whether affirmative easements can roll, the traditional rules of easement law generally support the ability to negotiate a rolling easement:
A few rules have discouraged courts from finding that there is a rolling easement:
Some cases have suggested that easements have a fixed location even though property lines themselves may be ambulatory, implying that a property line is more likely to roll than an access way.
Once the route is fixed, the holder may not unilaterally change the route.

[419]
Those rules, however, were applied when courts faced questions about how to construe ambiguous easements, not about whether an easement could specifically be drafted to ensure that it rolls. A holder is not unilaterally changing the route, for example, if the terms of the easement provide for the route to migrate.
If an easement is needed for sole access to a home or business, a court will generally find an easement by necessity so that the owner can build a driveway.[420] Parties are also able to negotiate the particular route for an easement by necessity.[421] It follows that if a particular way will be repeatedly washed out, then the parties can negotiate how the way of necessity will change. Honoring the terms of express language in a deed is more reasonable than ordering an alternative that no one contemplated.
4.2.3 Authority to Obtain a Rolling Easement
4.2.3.1 Private Entities
If a rolling easement is structured as a shoreline migration conservation easement, then the general restrictions for ownership of those instruments will apply. Qualified conservation organizations (as well as governments) have legal authority to hold conservation easements, while private citizens and for-profit corporations do not.[422] In most coastal states, anyone can hold a rolling easement structured as a defeasible estate, although statutes often provide charities with greater flexibility.[423] Any person or corporation can hold covenants and ordinary common law easements.[424]
4.2.3.2 Local Government
A locality may come to possess a rolling easement through any of the following mechanisms:
Purchasing the easement from a willing seller,
Receiving a donated rolling easement from either the landowner or a qualified conservation organization,
Acquisition through eminent domain,
Exaction as a permit condition.
Local governments interested in obtaining a rolling easement would have to address two questions: (a) Is the interest sought recognized as property by state law, and (b) does the local government have authority to obtain such an interest in the manner chosen?
If the method of creating the rolling easement complies with a state's conservation easement enabling act, then the easement is property. The Uniform Conservation Easement Act[425] allows conservation easements to be created using any means by which other easements can be created. Eleven coastal states[426] have adopted the act, although some have altered that provision.[427] Among the 13 coastal states with other conservation easement enabling statutes, some explicitly allow easement creation by any manner,[428] some do not explicitly address how the easement is created,[429] and others limit it.[430] None of the statutes explicitly say whether a conservation easement can be created through exaction. Presumably an exaction would be a permissible mode of creation wherever the statute allows "any means."But an exaction might not be permissible where the statute excludes eminent domain[431] or requires the easement to be created voluntarily.[432]
As with regulatory authority, the power of local governments to create conservation easements varies. In some states, the power of eminent domain is sharply limited, while in other states it is much broader. Similarly, some states provide localities with the authority for transferable development rights, while others do not. Localities may lack the power to exact an easement even if property law recognizes exacted conservation easements.
In states where the conservation enabling act does not allow conservation easements to be created involuntarily, it may be possible to obtain a rolling easement structured as a traditional future interest in land if eminent domain authority includes such interests. Moreover, in some cases a developer or other property owner may choose to sell or donate a rolling easement to obtain community support for a project. Some care may be necessary to ensure that the voluntary nature of the easement is well-established, lest it appear be an exaction in a state that does recognize exacted conservation easements as property.[433]
---
---
This page contains a section from: James G. Titus, Rolling Easements, U.S. Environmental Protection Agency. EPA‑430‑R‑11‑001 (2011). The report was originally published by EPA's Climate Ready Estuary Program in June 2011. The full report (PDF, 176 pp., 7 MB) is also available from the EPA web site.
For additional reports focused on the implications of rising sea level, go to Sea Level Rise Reports.