Cluster development is a common way to preserve open space, albeit on a much smaller scale than transferable development rights. Rather than convert a parcel to a subdivision with uniform density, a developer sets aside a portion of the land for a permanent park or preserve, while developing the rest of the parcel at a higher density.[1] Sometimes condominium apartment buildings, townhouses, or row houses are built on land that would otherwise have free-standing single-family homes, so that the development occupies a small fraction of the parcel. If the parcel is large enough, a cluster development can leave substantial land vacant for wetland migration—provided that a rolling easement is placed on the land that remains vacant as a result of the cluster. (See Figure 13.)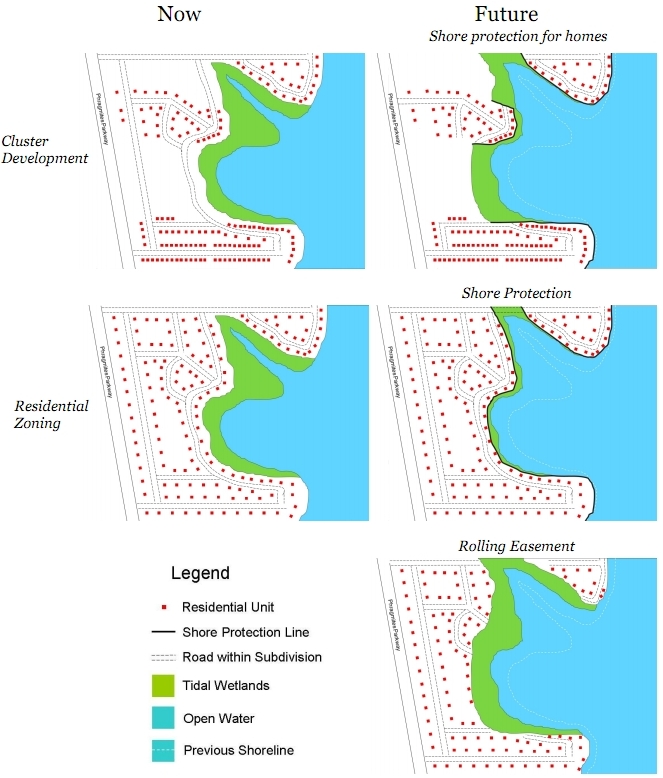 Figure 13. Cluster development increases the feasibility of rolling easements. With a cluster development, no homes will be lost as sea level rises, and wetlands will be able to migrate inland along most of the shore, especially if the undeveloped portion of the development has a rolling easement. With residential zoning, shore protection also means that no homes will be lost, but most of the wetlands will be lost. A rolling easement with residential zoning will allow more wetland migration than the cluster development, but many homes will be lost.
---
[1] Randall Arendt, Basing Cluster Techniques on Development Densities Appropriate to the Area, 63 Journal of the American Planning Association 137–145 (1997). See also Williamson County Regional Planning Comm'n v. Hamilton Bank of Johnson City, 473 U.S. 172, 176–177 (1985) (discussing cluster development).
---
This page contains a section from: James G. Titus, Rolling Easements, U.S. Environmental Protection Agency. EPA-430-R-11-001 (2011). The report was originally published by EPA's Climate Ready Estuary Program in June 2011. The full report (PDF, 176 pp., 7 MB) is also available from the EPA web site.
For additional reports focused on the implications of rising sea level, go to Sea Level Rise Reports.